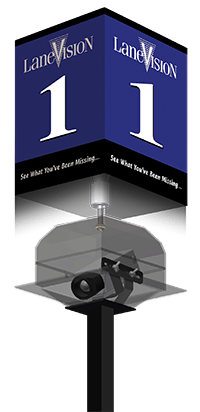 Introducing LaneVision
LaneVision is a simple, yet innovative product that enhances digital video recording at the point-of-sale (POS) terminal. LaneVision is a patented camera enclosure that will produce a clear, unobstructed view of the cashier, register, customer, and bagger all in one shot. Never before have retailers been able to obtain video from this unique angle at the POS. It's up close and personal, giving you the view of the register area that you've always dreamed about.
How LaneVision Works
LaneVision is a uniquely designed camera enclosure that fits directly into the checkstand light at the register. The camera is concealed by a tinted viewing window that has approximately 1 F-stop light reduction. The camera is thereby undetectable to the employee or customer, but able to record all transactions from only a few feet away. The enclosure can accept a fixed, solid state CCTV camera with a maximum camera and lens combination length of 7.25". The enclosure is easy to install and works with any text overlay or POS video integration system. The unfortunate presence of cashier theft, fraud, sweethearting, and even unintentional operational errors, makes LaneVision a must in virtually any retail environment. Reduction of front-end shrink is vital to the economic survival of a retail establishment. LaneVision shows you how to take control.
Captures Total Consumer Transaction and Interaction with One Shot
• Cashier • Product
• Register • Cash Transaction
• Cash Drawer • Bagging Process
• Customer • Bagger
LaneVision captures all the action up close, so you have no question in your mind about what may or may not have occurred at the POS. LaneVision gives you the camera shot you need every time. We invite you to put the LaneVision system into place easily and affordably, so you can begin to see results immediately. With LaneVision you'll finally see what you've been missing.